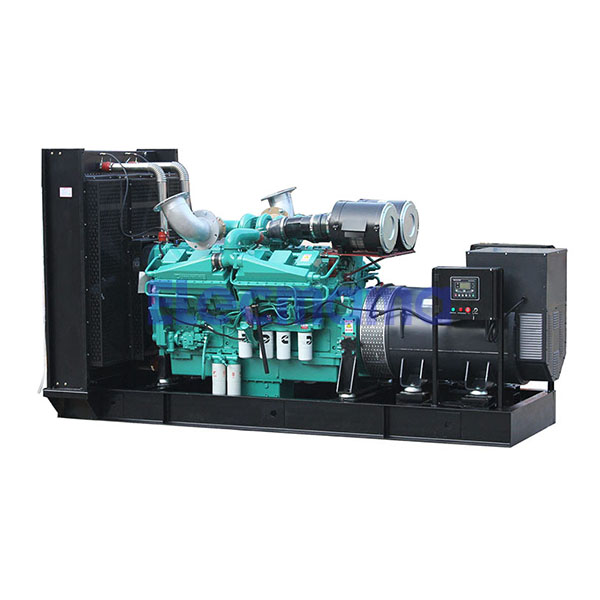 Cummins diesel generator sets
CCEC Cummins diesel generating set for land use
Genset frequency : 50HZ & 60HZ
Phase number : 3 Phase
Default voltage : 400/230V for 50HZ, 440/254V for 60HZ, other voltage can be available for our customers all over the world
Power output : 200kw to 1200kw
Power factor : 0.8 lagging
Country of origina : China
Quality certificate : ISO9001 : 2008, ISO14001 & CE
Guarantee period : 12 months started from on-board day of B/L
Production time : 25-30 days after we receive your 30% deposit
Description
Packing Information
Inquiry
Product Description
 CCEC Cummins
Genset Model
50HZ Diesel Generator
 50HZ 1500rpm Water-cooled Cummins Diesel Engine Made In China
Stamford Generator
Standby Power (ESP)
Prime Power (PRP)
Engine Brand
Engine Model
Power Output (KW)
Cylinder No.
Speed Governor
50HZ 1500rpm 400/230V Brushless Generator
KVA
KW
KVA
KW
Generator Model
Rated Power
YCM200CC
275
220
250
200
CCEC
NT855-GA
231-254
6
Electronic
UCD274K
200kw
YCM220CC
303
242
275
220
CCEC
NTA855-G1A
261-291
6
Electronic
HCI444D
240kw
YCM250CC
344
275
312.5
250
CCEC
NTA855-G1B
284-321
6
Electronic
HCI444ES
260kw
YCM280CC
385
308
350
280
CCEC
NTA855-G2A
310-343
6
Electronic
HCI444E
280kw
YCM300CC
413
330
375
300
CCEC
NTAA855-G7
343-377
6
Electronic
HCI444FS
304kw
YCM320CC
440
352
400
320
CCEC
NTAA855-G7A
407
6
Electronic
HCI444F
320kw
YCM360CC
495
396
450
360
CCEC
KTA19-G3
403-448
6
Electronic
HCI544C
400kw
YCM400CC
550
440
500
400
CCEC
KTA19-G3A
448-504
6
Electronic
HCI544C
400kw
YCM440CC
605
484
550
440
CCEC
KTAA19-G5
470-555
6
Electronic
HCI544D
440kw
YCM480CC
660
528
600
480
CCEC
KTA19-G8
575
6
Electronic
HCI544E
488kw
YCM500CC
688
550
625
500
CCEC
KTAA19-G6A
527-610
6
Electronic
HCI544FS
500kw
YCM520CC
715
572
650
520
CCEC
QSKTAA19-G3
574-634
6
Electronic
HCI544F
536kw
YCM600CC
825
660
750
600
CCEC
KTA38-G2
664-731
12
Electronic
LVI634B
600kw
YCM640CC
880
704
800
640
CCEC
KTA38-G2B
711-789
12
Electronic
LVI634C
640kw
YCM720CC
990
792
900
720
CCEC
KTA38-G2A
813-895
12
Electronic
LVI634D
728kw
YCM800CC
1100
880
1000
800
CCEC
KTA38-G5
880-970
12
Electronic
LVI634E
800kw
YCM900CC
1238
990
1125
900
CCEC
KTA38-G9
1090
12
Electronic
LVI634F
904kw
YCM1000CC
1375
1100
1250
1000
CCEC
KTA50-G3
1097-1227
16
Electronic
LVI634G
1000kw
YCM1100CC
1513
1210
1375
1100
CCEC
KTA50-G8
1200-1429
16
Electronic
PI734B
1120kw
YCM1200CC
1650
1320
1500
1200
CCEC
KTA50-GS8
1287-1429
16
Electronic
PI734C
1240kw
How to choose a 
Chinese Supplier of Cummins diesel generator set for a happy business cooperation ? 
We are "
Yangzhou Yongcai Machinery Co., Ltd". p
ower demand solution is professional and reliable. 
High quality and low price to buy "satisfaction", t
he easy procurement without any trouble.
What you buy is Genuine Diesel Generator Set. What we supply is 

life-long

service.
Cummins diesel generator sets
Packing Information -- Open Type Cummins diesel generators for land use
Packing Information -- Silent Type Cummins diesel generators for land use