Gaining first-hand understandings and professionality on production of diesel generator in China, greatly allows us to service more and more global customers who need to buy customerized standby diesel generators for their critical electricity requirements. Manufacturing and exporting a Backup Power diesel generator from China tailored to suit your power requirements will be our strength. What can you get from a Standby Diesel Generator ? The answer is here. Please read the following contents patiently.
What is a diesel generator ?
A diesel generator (also known as diesel genset) is the combination of a diesel engine with an electric AC generator (alternator) or single phase generator. This will depend on whether the diesel generator set is three-phase genset or single-phase genset.
What is a standby diesel generator ?
Standby diesel power generator is widely used to provide mission for critical power supply if a temporary disruption to the electricty grid. Typically installed to hospital, factory, construction, farming industry, mining, data centres, airports, industrial and commercial facilities, ship etc. As a preventive measure, the loss of electricity directly puts lives at risk, brings economic losses etc. The customers require the continuous power supply for their electrical equipments in emergency situations during period of prolonged power outage. Otherwise the result will be very bad and terrible. This is the core value that standby diesel power generator can bring to you, we believe in.
In the event of a loss to main power, diesel standby power generator will timely work for your equipments and actively ensures security of a continuous power supply. Standby emergency diesel generators with ATS (automatic transfer switch) provide maximum reliability of working performance, quick response to power outage. Once the mains power is back to be normal, the standby diesel generator can timely stop running through ATS access operation with any manual operation by person. Thus, every end-user of standby diesel generator can find genuine peace of mind on emergency situations.
What is the main type of China-made standby diesel generators exported to the world ?
open and enclosed diesel engine generator, super silent type diesel generator, trailer mounted diesel power generator, containerized silent type diesel genset etc. Many typies you already find them. But the highest acceptance of the global market is still quiet standby diesel generators as backup power source according to our long term exporting experience.
A case study on standby diesel generator 
Most of our customers have bought emergency backup diesel generators for their electricity supply all along. The reason is self-evident indeed. Anyway, we do want to go into a little more details.
Reliability — offering a mission of continuous power supply during a mains failure
Responsive — high load step capabilities
Fuel efficiency — the most appropriate engine to be selected will ensure the low costs of running generator set
Low maintenance cost — the main components of a diesel generator come from world-renowed brand diesel engine, generator, genset control module, nothing to be worried about
Project Case Study : standby 150kw Cummins diesel generator for mining industry
Date : December 2017
Location : a mining site in Zimbabwe
Diesel Generator : one set of silenced Cummins 150kw generator manufactured in 2017 year. It has been running for more than 3000 hours up to now. But it is still in good condition, which generates electricity normally without any malfunction.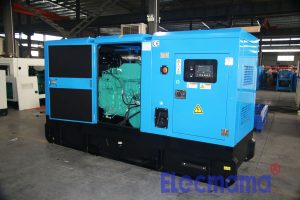 Cummins stand-by diesel generator configuration :
Standby power output 165kw /206kva
Prime power output 150kw /188kva
Cummins diesel engine 6CTA8.3-G2
Stamford generator UCI274G
Chinese Smartgen 6120N genset controller
50HZ, 3 phase-4 wire, 380/220V, PF=0.8 lagging
Genset model : YCM150DC
Genset type : silent type standby diesel generator
Fuel tank for 150kw Cummins generator : The standby diesel generator powered by Cummins 6CTA8.3-G2 engine is contained within an acoustic blue canopy with integrated 500L diesel fuel tank, which provides power for 12 continuous hours at 100% full load. Our handover test at the factory saw the diesel generator working at 110% of its capacity, handling all of these load requirements with ease.
Bill of Loading for Cummins 150kw diesel generator
Considering more bespoke Diesel Power Generation Solution, such as high-end industrial plugs and sockets for single phase or three phase genset, combination sockets box, ultra-large capacity external fuel tank, automatic refueling system, water jacket heater, residual current device (RCD) etc. many custom-built requirements, when you buy the emergency standby power source for the Short Term Operating Reserve (STOR) application, our company can supply single unit diesel generator simply running in island mode or multi-units diesel generators to be operated in parallel with each other. please don't hesitate to contact us and send your enquiry with detailed critical electricity requirements to [email protected] for a free quotation with tech-specs.