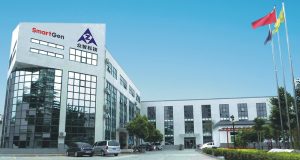 SMARTGEN(ZHENGZHOU) TECHNOLOGY CO., LTD. was established in 1998, a company which was listed on NEEQ. It specializes in design, development, manufacture, sale and service of engine/genset control, ATS and ATS control, engine heaters, battery chargers and related products. Our products are widely used in systems of National Defense, Telecom, Utility Power, Buildings, Marine, Fire Control, etc.
As a high-tech enterprise with a more than 40-person R&D team, SmartGen has successively developed hundreds of control modules with independent intellectual property rights and obtained almost 200 patents. The product technical and quality level leaps into the front ranks of the world.
SmartGen owns standard EMC and environmental labs, dust-free workshop, etc. Our annual sales of product has approached 200,000 and the market share ranks first in China for almost ten years.
SmartGen has passed the ISO9001, ISO14001, GB/T28001, CCSR9001 and GB/T29490 management system certifications. SmartGen is the "AAAA-Class" Enterprise with Good Practice on Standardization and also drafted national standards for genset control module.
SmartGen, which owns nearly 50 offices or agencies in the domestic and overseas, is committed to providing satisfied products and services for customers around the world to achieve win-win cooperation. We will continue to innovate and self-transcend; satisfy the demands of our clients as always; strive to be the most trustworthy world-class brand.
---

SmartGen products testing center was established in 2010, covering an area of nearly 1,000 square metres. With gradual improvements for years, it has become one of the handful of top-ranking testing bases in the industry.
In order to meet the requirements of various products, testing center continuously received capital injection up to millions of RMB. We successively purchased sets of advanced test equipment from FRANKONIA, Guangzhou ESPEC, Suzhou STI and other well-known enterprises.
At present, the main test types include EMC test, environmental tests and prototype tests.
EMC test equipment mainly includes RF Fields Immunity Test System, Motorcar Interference Analog Generator, ESD Generator, Damping Oscillation Wave Generator, Thunderstrike and Surge Generator, Pulse Group Generator, intelligent Power Frequency Magnetic Fields Generator, Integrated Conducted Susceptibility Tester, Leakage Current Tester, etc.
Environmental test equipment mainly includes Electric Vibration Test Table, Impact Test Table, Falling-ball Impact Test Equipment, Salt Spray Test Equipment, Temperature and Humidity Test Chamber, Xenon Lamp Aging Chamber, Sand and Dust Test Chamber, Rain Test Chamber, Combustion Tester, Single Arm Drop Test Equipment, etc.
Functional tests include Multi-units parallel Generation Test System, Solar-diesel Hybrid Generation Test system, Gas Generation Test System, Gasoline Generation Test System, Heaters Test System, etc.
---

Our diesel generator set often adopts Smartgen controlling module " HGM6120N " or " HGM6120NC "  which are commonly used as default configuration. HGM6120N is " AMF + one mains one gen system ". However, HGM6120NC is " AMF + one mains one gen system + RS485 ". Please click Smartgen HGM6120N for more details.