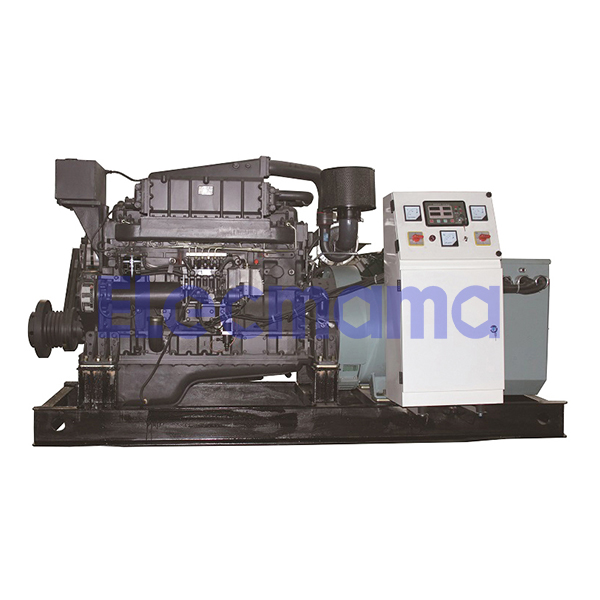 Shangchai marine diesel generators
40kw to 250kw Shangchai marine auxiliary diesel generators
Genset model : CCFJ40JW-SC  CCFJ50JW-SC  CCFJ64JW-SC  CCFJ75JW-SC  CCFJ90JW-SC  CCFJ100JW-SC  CCFJ120JW-SC  CCFJ150JW-SC  CCFJ200JW-SC  CCFJ250JW-SC
Genset frequency : 50HZ & 60HZ
Phase number : 3 Phase
Default voltage : 400/230V for 50HZ, 440/254V for 60HZ, other voltage can be available for our customers all over the world
Power factor : 0.8 lagging
Country of origina : China
Quality certificate : ISO9001 : 2008, ISO14001 & CE, marine CCS
Guarantee period : 12 months started from on-board day of B/L
Production time : 30-45 days after we receive customer's payment
Description
Packing Information
Inquiry
Our Shangchai marine diesel generator sets shall be 40kw to 250kw for auxiliary use. In order to get a better understanding on our Shangchai marine diesel generator sets, we have to kindly introduce some valued information for you about the manufacturer of Shangchai diesel engines for generator set firstly.

The manufacturer of Shangchai marine diesel engine for genset — Shanghai Diesel Engine Co., Ltd
Shanghai Diesel Engine Co., Ltd. (SDEC), with SAIC Motor Corporation Limited as its main shareholder, is a large state-owned high-tech enterprise engaged in research and development and manufacture of engines, engine parts and generator sets, possessing a state-level technical center, a postdoctoral working station, world-level automatic production lines and a quality assurance system that meets passage cars standards. Its former was Shanghai Diesel Engine Factory that was established in 1947 and was restructured into a stock-shared company in 1993 with shares of A and B.
In its nearly 70 years' development, SDEC saw its products all over the world. SDEC now has seven series of high-quality diesel and natural gas engines, i.e. R, H, D, C, E, G and W series. These series engines with power outputs of 50 to 1,600 kW are mainly applied to trucks, buses, construction machinery, generator sets, marine application and agricultural equipment. SDEC keeps on making service accessible to customers and has built a country-wide sales and service support system on the basis of the national road network, which consists of 15 central offices, 5 regional parts distribution centers, more than 300 core service stations and over 2,000 service dealers.
SDEC is always devoting to constant improvement of product quality and striving to forge a quality-leading supplier of power solution of diesel and new energy in China.
---
Technical specifications of Shangchai 

diesel generator sets for 

marine auxiliary use
Please pay a close attention to some explanations on our genset models as follows.
For example : CCFJ40JW-SC
CCF = marine diesel generator set code
Genset Current classification code, "J" for AC and "Z" for DC
Genset rated power code representing in KW, 40 means the rated power of marine diesel generator set is 40kw
Genset classification code, "J" = basic type marine diesel generator set, "Y" = emergency type marine diesel generator set, "Z" = automatic type marine diesel generator set
Code of navigation zone applicable to marine genset, "W" for unlimited navigation zone, "Y" for limited navigation zone
SC = Shangchai
Marine Auxiliary Genset
50HZ 1500rpm Shangchai Marine Diesel Engine Made In China
Marine Generator
Genset Model
Rated Output
Engine Brand
Engine Model
Rated Output
Cylinder No.
Fuel Consumption (g/kw.h)
50HZ 1500rpm 400V Marine Generator
kW
kVA
Marathon
Kangfu
CCFJ40JW-SC
40
50
Shangchai
4135Caf
60kw
4
210
MP-H-40-4
SB-HW4.D-40
CCFJ50JW-SC
50
63
Shangchai
4135Caf
60kw
4
210
MP-H-50-4
SB-HW4.D-50
CCFJ64JW-SC
64
80
Shangchai
4135ACaf
76.8kw
4
210
MP-H-64-4
SB-HW4.D-64
CCFJ75JW-SC
75
94
Shangchai
6135Caf
90kw
6
205
MP-H-75-4
SB-HW4.D-75
CCFJ90JW-SC
90
113
Shangchai
6135ACaf
108kw
6
205
MP-H-90-4
SB-HW4.D-90
CCFJ100JW-SC
100
125
Shangchai
6135JZCaf
144kw
6
202
MP-H-100-4
SB-HW4.D-100
CCFJ120JW-SC
120
150
Shangchai
6135JZCaf
144kw
6
202
MP-H-120-4
SB-HW4.D-120
CCFJ150JW-SC
150
188
Shangchai
6135JZLCaf
180kw
6
202
MP-H-150-4
SB-HW4.D-150
CCFJ200JW-SC
200
250
Shangchai
G128ZLCaf2
240kw
6
197
MP-H-200-4
SB-HW4.D-200
CCFJ250JW-SC
250
313
Shangchai
G128ZLCaf3
276kw
6
197
MP-H-250-4
SB-HW4.D-250
---
Main Supply Scope of Shangchai marine diesel generator set
genuine marine Shangchai diesel engine with the matchable sea water pump & heat-exchanger, marine Shangchai diesel engine has electric start-up by battery made in China, standard accessories, tools, tool bag from Shanghai Diesel Engine Co., Ltd are available and provided for our overseas customers.
genuine marine Marathon generator or marine Kangfu generator made of 100% copper wires made in China, brushless, self-excited, insulation class H, ingress protection IP23, automatic voltage regulator (AVR)
Chinese "Enda" famous brand monitor for marine diesel engine manufactured by Jiangsu Enda General Equipment Co., Ltd.
the diesel engine & generator are coupled on a common base frame with metal shock absorber. The common base frame is made of U-steel (channeled-steel)
CCS certificate of marine AC generator and CCS certificate of marine diesel engine
Manual of marine diesel engine in English version
Manual of marine generator in English version
Operation and maintenance manual of marine diesel generator in English version
the corresponding spare parts and tools, to be shipped with marine genset for the customer's maintenance & replacement
standard plywood case for export
---
At this very moment, if you decide to buy marine Shangchai diesel generator, will you have a lot of questions in minds ? Don't worry about this. Just send your enquiry to sales@elecmama.com or directly add Whatsapp +86 189-3624-2835. You can get all of answers. You see, importing a Shangchai marine diesel genset from China is not an easy job involved into many things and details. We feel that the professional thing can be well done by professional company. The original will of our company is to sacrifice all of our industrial experiece for electric power demand from global customers. In fact, all the time our work is always to help the buyer reduce the procurement risk and procurement cost. We are willing to do more during the mutual cooperation between our customers and us. Only our customer's workload goes down, they will have a more relaxed mood to enjoy life with a doubt. This is the goal of our hard work. — Yangzhou Yongcai Machinery Co., ltd.
Choose us for the professional service. We will offer you the most professional and the best service. Yangzhou Yongcai Machinery Co., Ltd. can be your supplier. You can be our friend.
Packing Information -- Shangchai marine diesel generators for auxiliary use
Marine Auxiliary Genset
50HZ Shangchai Marine Engine
Marine Generator
Packing Information
Genset Model
Rated Output
Engine Brand
Engine Model
50HZ 1500rpm 400V Marine Generator
Open Type Marine Genset
kW
kVA
Marathon
Kangfu
Dimension (LxWxH) mm
Weight (kg)
CCFJ40JW-SC
40
50
Shangchai
4135Caf
MP-H-40-4
SB-HW4.D-40
1900 x 1050 x 1220
1700
CCFJ50JW-SC
50
63
Shangchai
4135Caf
MP-H-50-4
SB-HW4.D-50
1900 x 1050 x 1220
1800
CCFJ64JW-SC
64
80
Shangchai
4135ACaf
MP-H-64-4
SB-HW4.D-64
2000 x 1100 x 1260
2100
CCFJ75JW-SC
75
94
Shangchai
6135Caf
MP-H-75-4
SB-HW4.D-75
2230 x 1100 x 1260
2250
CCFJ90JW-SC
90
113
Shangchai
6135ACaf
MP-H-90-4
SB-HW4.D-90
2350 x 1110 x 1260
2300
CCFJ100JW-SC
100
125
Shangchai
6135JZCaf
MP-H-100-4
SB-HW4.D-100
2350 x 1110 x 1260
2400
CCFJ120JW-SC
120
150
Shangchai
6135JZCaf
MP-H-120-4
SB-HW4.D-120
2350 x 1100 x 1300
2600
CCFJ150JW-SC
150
188
Shangchai
6135JZLCaf
MP-H-150-4
SB-HW4.D-150
2350 x 1100 x 1300
2700
CCFJ200JW-SC
200
250
Shangchai
G128ZLCaf2
MP-H-200-4
SB-HW4.D-200
2530 x 1000 x 1700
2900
CCFJ250JW-SC
250
313
Shangchai
G128ZLCaf3
MP-H-250-4
SB-HW4.D-250
2580 x 1000 x 1700
3200