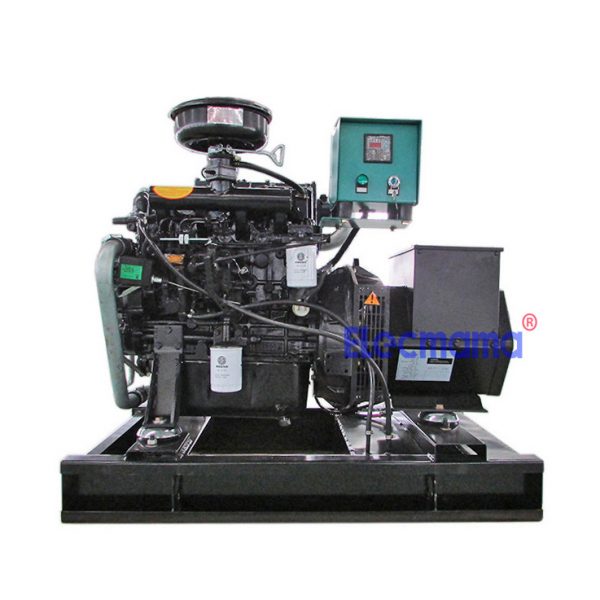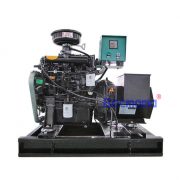 16kw Weichai marine diesel generator
16kw Weichai marine generator for auxiliary use
Genset rated output : 16kw / 20kva
Genset model : CCFJ16JW-WC
Genset frequency : 50HZ
Default voltage : 400/230V, other voltage still can be available
Phase number : 3 phase
Power factor : 0.8 lagging
Marine diesel engine : Weichai WP2.5CD22E1
Marine generator : Stamford, Marathon, Kangfu or other brand marine brushless generator
Genset type : open type without soundproof canopy
Gesnet dimension : (L*W*H) : 1300 x 757 x 1075 mm
Net weight : 467 kgs
Country of origin : China
Quality certificate : marine CCS or other kind of marine certificate
Guarantee period : 12 months started from on-board day of B/L
Production time : 30-45 days after we receive customer's payment
Minimum Order Quantity (MOQ) : 1 set
16kw Weichai marine diesel generator  
Yangzhou Yongcai Machinery Co., Ltd. professionally supplys and exports 12kw to 300kw Weichai marine diesel generators for ship use. Our Weichai marine generators are made in China, which shall be classified into 2 categories, namely, Weichai marine auxiliary generators and Weichai marine emergency generators. 
12kw to 300kw Weichai marine diesel generator for auxiliary use
30kw to 250kw Weichai marine diesel generator for emergency use
Before importing this 16kw Wechai marine diesel generator from China, please kindly study our marine genset model's explanations as follows.
Genset model : CCFJ16JW-WC
CCF = marine diesel generator set code
Genset Current classification code, "J" for AC and "Z" for DC
Genset rated power code representing in KW, 16 means the rated power of marine diesel generator set is 16kw
Genset classification code, "J" = basic type marine diesel generator set, "Y" = emergency type marine diesel generator set, "Z" = automatic type marine diesel generator set
Code of navigation zone applicable to marine genset, "W" for unlimited navigation zone, "Y" for limited navigation zone
WC = Weichai
Our 16kw Weichai marine generator for auxiliary use is powered by Weichai WP2.5CD22E1 marine diesel engine coupled with Stamford, Marathon or Chinese Kangfu marine brushless generator. More details for main technical parameters are available for you listed in the following chart.
Genset Model
CCFJ16JW-WC
CCFJ16JW-WC
CCFJ16JW-WC
Genset Prime Power
KVA
20kva
20kva
20kva
Genset Prime Power
KW
16kw
16kw
16kw
Frequency
50 HZ
50 HZ
50 HZ
Power Factor
0.8 lagging
0.8 lagging
0.8 lagging
Generating System
3 phase ~ 4 wire
3 phase ~ 4 wire
3 phase ~ 4 wire
3 Phase Voltage
380/220V, 400/230V, 415/240V, 440/254V
380/220V, 400/230V, 415/240V, 440/254V
380/220V, 400/230V, 415/240V, 440/254V
Wechai Marine Diesel Engine
Engine Manufacturer
Weichai Power Co., Ltd. in China
Weichai Power Co., Ltd. in China
Weichai Power Co., Ltd. in China
Engine Model
Weichai WP2.5CD22E1
Weichai WP2.5CD22E1
Weichai WP2.5CD22E1
Engine Power
22kw
22kw
22kw
Cylinder Number
4 cylinders
4 cylinders
4 cylinders
Aspiration
Natural aspirated
Natural aspirated
Natural aspirated
Bore x Stroke
90 x 100 mm
90 x 100 mm
90 x 100 mm
Displacement
2.1L
2.1L
2.1L
Engine Speed
1500 rpm
1500 rpm
1500 rpm
Speed Governor
Mechanical
Mechanical
Mechanical
Cooling System
heat exchanger, water-cooled
heat exchanger, water-cooled
heat exchanger, water-cooled
Fuel Consumption
≤4.2L/h at 100% load
≤4.2L/h at 100% load
≤4.2L/h at 100% load
Starting Way
Electric Start by Battery
Electric Start by Battery
Electric Start by Battery
Marine Generator
Generator Manufacturer
Shanghai Marathon Gexin Electric Co., Ltd. in China
Nanchang Kangfu Generator Technology Co., Ltd in China
Cummins Generator Technologies (China) Co., Ltd. in China
Generator Model
Marathon MP-H-16-4
Kangfu SB-HW4.D-16
Stamford PM144H
Rated Power
16kw
16kw
17.7kw
Excitation Method
Brushless, Self-excited
Brushless, Self-excited
Brushless, Self-excited
Insulation Class
H Class
H Class
H Class
Ingress Protection
IP23
IP23
IP23
Voltage Control
AVR
AVR
AVR
Packing Information
Genset Type
Open type
Open type
Open type
Dimension (LxWxH)
1300 x 757 x 1075 (mm)
1300 x 757 x 1075 (mm)
1300 x 757 x 1075 (mm)
Weight
467 kgs
467 kgs
467 kgs
Who is Weichai Power Co., Ltd. in China ?
Weichai Power Co., Ltd. (HK2338, SZ000338) was founded in 2002 by the main sponsor, Weichai Holding Group Co., Ltd. and qualified domestic and foreign investors. It is the combustion engine company listed in Hong Kong stock market, as well as the company returning to China mainland stock market. In 2019, Weichai's sale revenue reaches 174.36 billion RMB, and the net income attributable to parent reaches 9.11 billion RMB.
Weichai has always adhered to the operation strategy of product-driven and capital-driven, and is committed to developing products with three core competitiveness: quality, technology and cost. It has successfully built the synergetic development pattern among powertrain (engine, transmission, axle/hydraulics), vehicle and machinery, intelligent logistics and other segments. The Company owns famous brands such as "Weichai Power Engine", "Fast Gear", "Hande Axle", "Shacman Heavy Truck", and "Linder Hydraulics". 
Weichai owns the State Key Laboratory of Engine Reliability, National Engineering Technology Research Center for Commercial Vehicle's Powertrain, National Commercial Vehicle and Construction Machinery New Energy Power Innovation Strategic Alliance, National Professional Makers' Space, "Academician Workstation", "Post-doctoral Workstation" and other R&D platforms. The Company has the national intelligent manufacturing model base, as well as established R&D centers in Weifang, Shanghai, Xi'an, Chongqing, Yangzhou, etc. in China, and built cutting-edge technology innovation centers in many places around the world, and set up global collaborative R&D platform to make sure that the technology stays at global leading level.
Who is Cummins Generator Technology (China) Co., Ltd. ?
Cummins Generator Technology (China) Co., Ltd. is an affiliated company of Cummins Inc in USA. It is the only wholly owned enterprise of Cummins Generator System in China. Established in 1996, and now two factories are set up in Wuxi new district, Jiangsu province, China, mainly produces STAMFORD® brushless alternators within the range of 7.5-2500 kVA.
Who is Shanghai Marathon Gexin Electric Co., Ltd. in China ?
Shanghai Marathon Gexin Electric Co., Ltd. in China is a professional company, engaging in generator manufacturing and sales, established on April 28th in 1996. J.V was invested by USA REGAL BELOIT CO., LTD (55% share) and SHANGHAI MECHANICAL ELECTRICAL INDUSTRY CO., LTD (45% share). US Regal is the biggest micro-motor manufacturer and there're 63 facilities & 16 R&D centers in the world. SMEC is the subsidiary corporate of SEC whose revenue reaches over CNY 80 billions.
Shanghai Marathon Gexin Electric Co., Ltd. imports production and engineering technology from USA MARATHON and produces brushless synchronous 1-phase and 3-phase generators from 5KW to 3000KW at internationally advanced level.  Company is the clean & high efficiency generator manufacturing facility in Shanghai.
Shanghai Marathon Gexin Electric Co., Ltd. has been awarded certificates of Shanghai High & New Technology enterprise and Baoshan District R&D center with ISO9001:2015 quality system, owning 42 patents at present. Exporting generators have been awarded the certificates of USA UL, Canada CSA & Europe CE. and Marine generators have certificates of USA ABS, Russia RS, France BV, China CCS & ZY, etc. Due to reliable quality & excellent performance, MARATHON generators are widely used in diverse fields including construction, mine, hospital, military, marine, reefer, telecommunication, crane duty, etc. and exported to USA, Canada, South-East of Asia, Europe, the Middle East, etc.
New plant of Shanghai Marathon Gexin Electric Co., Ltd. covers an area of 26166.7 sqm with 16143 sqm of construction and the annual target capability of production is 60000 units, valuing CNY one billion of sales.
Who is Nanchang Kangfu Generator Technology Co., Ltd. in China ?
Nanchang Kangfu Generator Technology Co., Ltd is developed from Jiangxi Sanbo Electric Head Works, which is a state-level High Technological enterprise and has more than 50 years generator manufacturing and design experience in marine generators and land use generators.
The main products manufactured by Kangfu company include high efficiency excitation land /marine generators for military and civilian use, permanent magnet excitation high voltage generators and generators for special use, the rated power of main products is 1kW~5000kW, rated voltage is 110V-13800V, rated frequency is 50HZ~400HZ, the generators protection class is IP21~IP57.The generators have characteristics of good voltage waveform, stable voltage regulation, good electromagnetic compatibility, excellent dynamic performance and great capacity of starting asynchronous motor and strong nonlinear loading ability. The generators run stably in parallel, simply structure and exquisite appearance. Moreover, three times of harmonic exciting technology generators have self-owned intellectual property right.
Kangfu marine generator has been certificated and checked by CCS, ZY, Germanischer Lloyd (GL), RINA and Bureau Veritas(BV). And Kangfu has got export generator product quality license. Kangfu company has been passed ISO9001 Quality management system, ISO14001 environmental management system and OHSAS18001 occupational health and safety management certification, and the quality of the product reaches a first-class level. Kangfu may also conduct the certification of Lloyds Register of Shipping(LRS), DNV, American Bureau of Shipping(ABS), RMRS、NKK, KRS, PRS and so on.
---
Main Supply Scope for our 16kw Weichai marine auxiliary diesel generator
genuine Weichai marine diesel engine with the matchable sea water pump & heat-exchanger as the cooling system, marine Weichai diesel engine has electric start-up by battery made in China, standard accessories, tools, tool bag from Weichai Power Co., Ltd. are available and provided for our overseas customers.
genuine Stamford, Marathon or Kangfu marine generator made of 100% copper wires made in China, brushless, self-excited, insulation class H, ingress protection IP23, automatic voltage regulator (AVR)
Chinese "Enda" famous brand monitor for marine diesel engine manufactured by Jiangsu Enda General Equipment Co., Ltd.
diesel engine and generator are coupled on a common base frame with metal shock absorber. The common base frame is made of U-steel (channeled-steel)
CCS certificate of marine AC generator and CCS certificate of marine diesel engine
Manual of marine diesel engine in English version
Manual of marine generator in English version
Operation and maintenance manual of marine diesel generator in English version
technical documents of genset : genset outline drawing and electrical schematic diagram for genset
the corresponding spare parts and tools, to be shipped with marine diesel generator to the buyer for the future maintenance and repairs
standard plywood case for export
---

What is your price terms? CIF or FCA, our price terms will be one of them.
What is your payment terms? bank TT (telegraphic transfer), 30% deposit bank TT before production, the balance 70% to be paid by bank TT before shipment. Other payment terms can be negotiable with the customer.
What is your port of loading in China? Shanghai port, Fuzhou port, Qingdao port or other port in China
What is your minimum order quantity? 1 set
What is your packing material ? plywood case for LCL shipment by sea, plastic membrance for FCL shipment by sea
What is your production time? 30-45 workdays after we get deposit
What is your warranty time? 12 months or 1000 running hours, whichever comes firstly. Your will enjoy all-around technical supports and counseling pre-sale, in-sale, after-sale, spare parts service is also a part of our comprehensive services, unworried too much
What is country of origin for your product? China
---
At this very moment, if you decide to buy Weichai 16kw marine generator, will you have a lot of questions in minds ? Don't worry about this. Just send your enquiry to [email protected] or directly add Whatsapp +86 189-3624-2835. You can get all of answers. You see, importing Weichai marine diesel generator 16kw from China is not an easy job involved into many things and details. We feel that the professional thing can be well done by professional company. The original will of our company is to sacrifice all of our industrial experiece for electric power demand from global customers. In fact, all the time our work is always to help the buyer reduce the procurement risk and procurement cost. We are willing to do more during the mutual cooperation between our customers and us. Only our customer's workload goes down, they will have a more relaxed mood to enjoy life with a doubt. This is the goal of our hard work. — Yangzhou Yongcai Machinery Co., ltd.
Choose us for the professional service. We will offer you the most professional and the best service. Yangzhou Yongcai Machinery Co., Ltd. can be your supplier. You can be our friend.