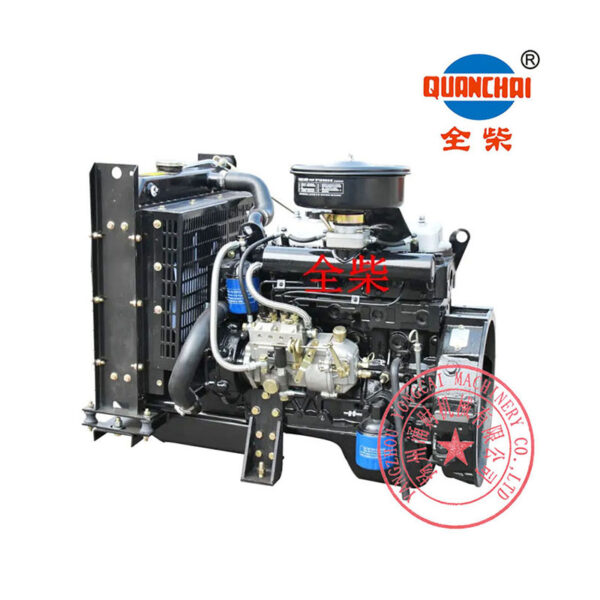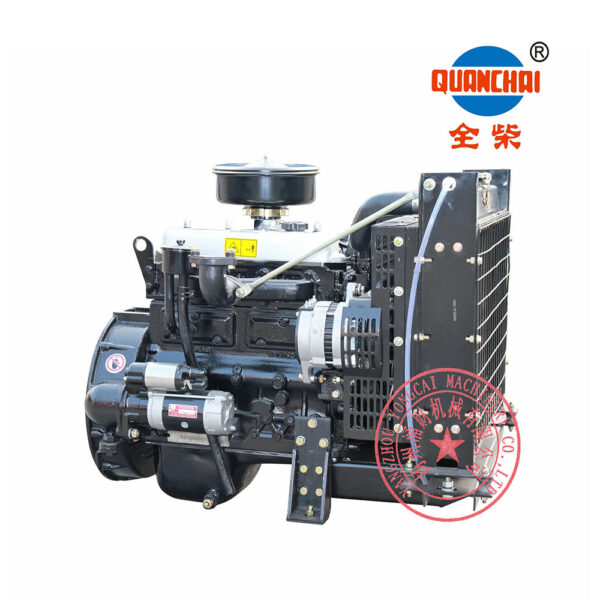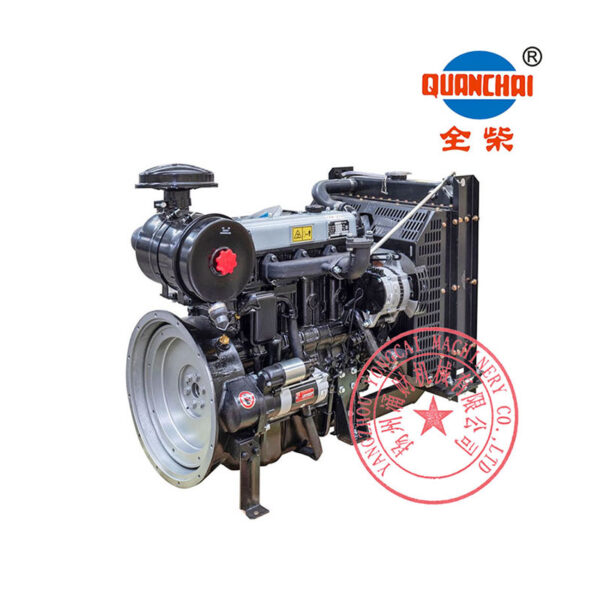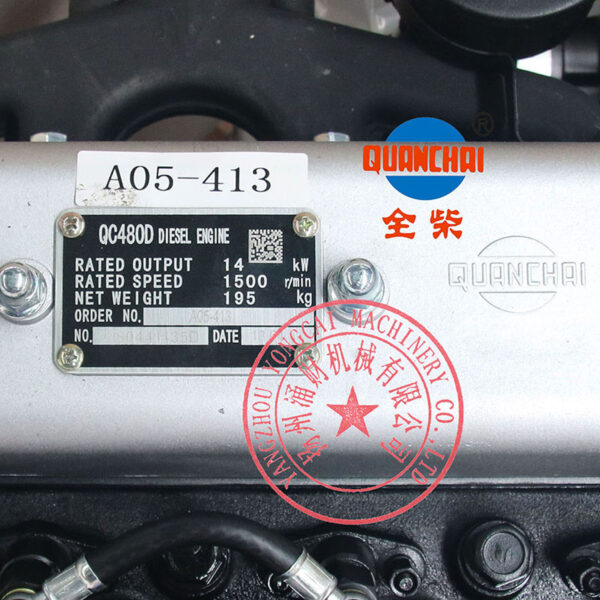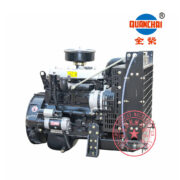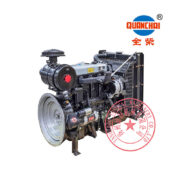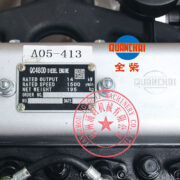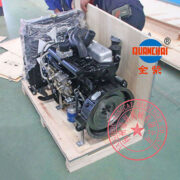 QC480D Quanchai diesel engine for genset
Quanchai QC480D diesel engine for power generation
Application : electricity generation
Engine brand : Quanchai
Engine model : QC480D
Rated power ( KW/rpm ) : 14/1500  17/1800
Engine speed governor : mechanical type
Cooling way : water cooled
Country of origin : China
Manufacturer : Anhui Quanchai Engine Co., Ltd.
Production time : within 20 days
Minimum Order Quantity (MOQ) : 1 set
Packing material : strong plywood case
QC480D Quanchai diesel engine
Quanchai QC480D diesel engine supplied by Yangzhou Yongcai Machinery Co., Ltd. in China, genuine Quanchai diesel engine for you. If your QC480D diesel engine was down, needs to be replaced by a new QC480D engine ? It is best for you to directly import it from China. Wisdom without regret. Yangzhou Yongcai Machinery Co., Ltd. is good at exporting Quanchai diesel engines, Quanchai diesel engine parts and diesel generators powered by Quanchai diesel engines made in China. We are a service-oriented company, focus on improving value-added services at a competitive price for our customers. As the active seller, our company already became the transacted supplier to global customers from more than 100 countries, The important thing is that currently you want to buy a genuine Quanchai QC480D engine from China. We are here just for you.
QC480D Quanchai diesel engine parameters
Quanchai Diesel Engine Model

QC480D

Cylinder No.
4
Bore * Stroke (mm)
80 x 90
Displacement (L)
1.809
Standby Power Output (kw)
14
17
Rated Speed (r/min)
1500
1800
Smooth Speed Rate (%)
≤5%
Fuel Consumption Rate(g/kW·h)
≤245
Cylinder Line Type
Dry
Diesel Engine Type
In-Line, Four-Stroke
Cooling Way
Water-Cooled
Air Intake Type
Natural aspiration
Lubricating Type
Pressure, Flying Hybrid
Flywheel Cover Type
SAE4#
Flywheel Type
SAE7.5″
Fan Diameter
Φ410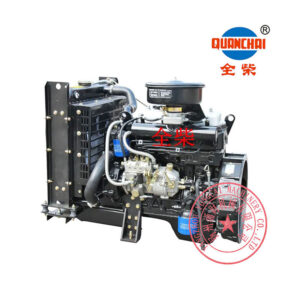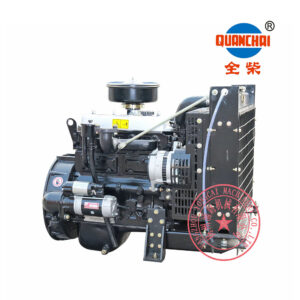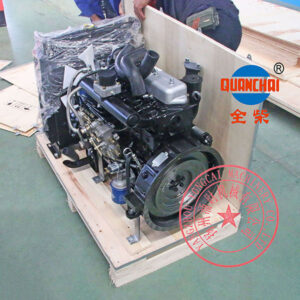 QC480D Quanchai diesel engine successful case
One of our customers in Solomon Islands bought one set of Quanchai QC480D diesel engine from our company in 2018 year. Please watch this youtube video for more details.
QC480D Quanchai diesel engine parts
If you are interested in buy common quick-wear parts and overhaul parts for Quanchai QC480D diesel engine, we list these parts as follows for your kind reference.
air filter, fuel filter, oil filter, water pump, water pump bypass hose, engine alternator, electric starter motor for engine, engine belt for radiator (water tank), cooling fan blade, radiator, radiator cap, cylinder head, cylinder head gasket, cylinder head cover, engine overhaul gaskets kit, lube oil pump, oil pump drive gear with shaft, oil pan, oil sump gasket, fuel injector, fuel nozzle, fuel injection pump, fuel feed pump, piston, piston rings, piston pin, piston pin circlips (snap rings), cylinder liner (cylinder sleeve), connecting rod, connecting rod bearings, crankshaft, crankshaft main bearings, crankshaft front oil seal, crankshaft rear oil seal, crankshaft thrust washer, oil pressure sensor, water temperature sensor, engine speed sensor, camshaft, camshaft seals, camshaft bearings bush, intake valves, exhaust valves, intake valve guild, exhaust valve guide, intake valve seat, exhaust valve seat, valve spring, valve rocker arm assembly, valve oil seal, valve cover gasket, push rod, bucket tappet, thermostat, thermostat housing, thermostat housing gasket, thermostat cover, thermostat cover gasket, engine stop solenoid valve, turbocharger for turbocharged engine, flywheel, flywheel housing, crankshaft pulley wheel, oil seal of crankshaft pulley wheel etc.
QC480D Quanchai diesel engine manufacturer
QuanChai Group Company is located in QuanJiao county, a historical city of eastern AnHui province in China. QuanChai Group founded in 1949, is a modern enterprise group involved in R&D, manufacturing, marketing and investment. The group consists of several wholly-owned subsidiaries, holding companies and subsidiaries, such as QuanChai Engine Co., Ltd, TianHe Machinery company etc., there are more than 3000 employees, the business scope covers diesel engine, automobile parts, plastic pipe, financial investment etc. Quanchai Engine Co., Ltd, founded in 1998, is the core of QuanChai Group, which is a listed company specialized in R&D and manufacturing of engine, is awarded as the national high-technology enterprise, national technology innovation enterprise and the national intellectual property enterprise.
QuanChai has its own "National enterprise technology center" and state -of-the-art product testing center, "Academician workstation of Anhui province" and "Anhui postdoctoral workstation", To continuously keep up with the world advanced level and ensure QuanChai product and technology quality, Quanchai established good relations with many domestic and foreign research institutions and universities. By relying on forward-looking products R&D and innovation, the company has undertaken and joined in national key research and development projects, state-level key new products projects and international cooperation projects, In china, QuanChai brand engines have reached advanced level in the aspects of economy, reliability, environmental protection etc. With continuously upgrading of the product structure, QuanChai engines, with power range of 15 to 380 hp, are widely used in automobile, forklift, agricultural equipment, construction machinery and generating sets. Over the years, QuanChai has been focusing on technological transformation and upgrading of modern manufacturing technology, many advanced international technology and equipment have been applied to, including IT, integrated automatic technology, static pressure molding, EPC, horizontal and vertical conversion processing center, online detection, intelligent robot, AGV and RGV transport trolley etc., which makes our manufacturing capacity improved constantly and also lay the foundation for QuanChai manufacturing capacity of high-quality products. Through constantly technological transformation and market development, QuanChai has built a diesel engine R&D and manufacturing base (QuanChai Engine Co., Ltd), which possesses the manufacturing capability of more than 600000 sets of multi-cylinder diesel engines.
How to buy QC480D Quanchai diesel engine from China, from our company ?
Please send your enquiry to us by Email or add WhatsApp for a futher business talk.
Please tell us the answers of the following questions in your enquiry. We will contact you within 24 hours.
Quanchai diesel engine model
Quanchai diesel engine application field, generating set, right ?
1500 rpm Quanchai engine or 1800 rpm Quanchai engine ?
Mechanical speed governor engine or Electronic speed governor engine ?
Engine radiator temperature is 50℃ or 40℃ ?
Purchasing quantity, one set of Quanchai engine, right ?
Do you want to buy some spare parts for your Quanchai engine ?
Price terms is FOB China or CIF port of discharge ?
You see, importing a Quanchai diesel engine from China is not an easy job involved into many things and details. We feel that the professional thing can be well done by professional company. The original will of our company is to sacrifice all of rich industrial experiece for our global customers. In fact, all the time our work is always to help the buyer reduce the procurement risk and procurement cost. We are willing to do more during the mutual cooperation between our customers and us. Anyhow, facts speak louder than words. This is always right, we believe. Choose us for the professional service. We will offer you the most professional and the best service.