FAW CA6DF2D-14D diesel engine for genset
Chinese Fawde (Yiqi Xichai) diesel engine for electricity generation
Diesel engine model : CA6DF2D-14D
Power output : 96kw to 105kw
Frequency : 50Hz
Diesel engine speed : 1500rpm
Production time : 18-20 days after payment
Manufacturer : FAW Jiefang Automotive Co., Ltd. Wuxi Diesel Engine Works
Country of origin : China
CA6DF2D-14D FAW diesel engine for electricity generation
Yangzhou Yongcai Machinery Co., Ltd. is good at exporting FAW diesel engines, FAW diesel generators and spare parts of FAW diesel engine. We are a service-oriented company, focuses on improving value-added services at a good price for our customers. As a supplier who have already dealed with customers from more than 50 countries, we expect a business cooperation with you all along. The important thing is that currently you want to buy a genuine FAW CA6DF2D-14D diesel engine from China. We are here just for you.
Your FAW CA6DF2D-14D diesel engine is broken. Our company can supply this CA6DF2D-14D FAW diesel engine for you. genuine FAW diesel engine, genuine FAW diesel engine, genuine FAW diesel engine, the important thing has been said three times. To verify our professionalism firstly, please let us introduce the detailed technical specifications of FAW diesel engine for you in the following contents.
FAWDE CA6DF2D-14D Diesel Engine applied for Power Generation made in China
FAWDE DIESEL ENGINES FOR GENSET — 6DF Series diesel engines
Main Technical Specifications for Fawde CA6DF2D-14D diesel engine for Genset (6DF Series) : 
Engine model
CA6DF2D-14D
CA6DF2-17D
CA6DF2-19D
Type
6-cylinder   4-stroke
Air intake type
Turbocharged
Turbo & intercool
Cooling mode
Water cooling
Governor mode
electronic
Bore × Stroke (mm)
110×115
110×125
Compression ratio
17∶1
Rated speed (rpm)
1500
Displacement (L)
6.56
7.12
Rated power (without fan)(kW)
96
125
140
Standby power (without fan)(kW)
105
138
154
Fuel consumption (g/kWh)
202
202
200
Oil consumption (L/h)
0.08
0.08
0.06
Steady state speed regulation (%)
≤3
Oil capacity including filter (L)
20
23
Emission compliant
StageⅡ
The flywheel shell interface
SAE3
SAE2
Flywheel for 11.5″ flexible coupling
Dry weight of Gen Pac (kg)
850
880
1000
Overall dimension (mm)
1386×680×1100
1386×680×1100
Fan consumption(kW)
8
27℃ air consumption(m3/min)
7
9
12
Heat rejection of exhaust(kW)
77
102
120
Exhaust gas temperature after turbine(℃)
460
470
470
Exhaust gas flow(m3/min)
19
25
30
Heat rejection from engine(kW)
14
18
21
Heat rejection of coolant(kW)
60
77
81
Base configuration
Standard configuration (add on the base)
Engine with fan
Intake and exhaust sysytem:Air filter and connecting pipes, Connecting flang of exhaust pipe
Alternator 65A 28V
Cooling system:Radiator with connecting pipes, Fan guard, Belt guard
Starter motor 5kW 24V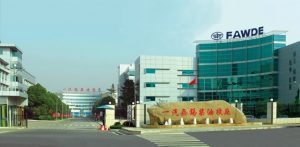 FAW Jiefang Automotive Co., Ltd. Wuxi Diesel Engine Works in China
Located in Wuxi, Jiangsu Province, FAW Jiefang Automotive Co., Ltd. Wuxi Diesel Engine Works (hereinafter referred to as " FAWDE ") is an exclusively-invested enterprise subordinated to China FAW Group Corporation. Established in 1943, and after seven decades of development, the factory now covers an area of 670,000 square meters, with over 3,500 employees, total assets of RMB6.35 billion, and brand intangible assets of RMB10.229 billion. Presently, it possesses four plant areas, including two large engine bases, one engine remanufacturing base, and one modified vehicle research base, and has formed a production system with world-leading equipment, domestic leading management and industry leading quality, with an annual production capacity of 600,000 diesel engines and 15,000 modified vehicles.
FAWDE has domestic leading independent research and development capacity. Relying on the advantage of the technology center of FAW, it has formed an independent research and development mode of open cooperation, built "five independent R&D systems" including the product development process and standard system, and the product development process management system, and set up "five independent R&D technology platforms" involving energy-saving and environmental protection technology, and e-intelligence technology, which is the only enterprise that has various core technologies such as VCU, GPS, EGR, and engine braking in the diesel engine industry, as well as the first enterprise that has successfully developed the four-valve diesel engine and electronic-controlled common-rail diesel engine, and successfully developed and promoted the two-stage supercharged diesel engine in China.
---
Spare Parts for FAW Diesel Engine 
CA6
DF2D-14D
After you buy FAW CA6DF2D-14D diesel engine from our company, sooner or later you will replace spare parts for engine maintenance someday in the future. Here we can tell you main spare parts. You can get an idea of these engine parts firstly.
air filter, fuel filter, oil filter, water pump, engine alternator, electric starter motor for engine, V-belt for water tank (radiator), cylinder head gasket, engine overhaul gaskets kit, lube oil pump, injector, tube nozzle, fuel injection pump, piston, piston rings, piston pin, cylinder lines, connecting rod, connecting rod bearings, crankshaft, crankshaft main bearings, main crankshaft front seal, main crankshaft rear seal, oil pressure sensor, water temperature sensor, diesel engine speed sensor, camshaft, intake valves, exhaust valves, intake valve guild, exhaust valve guide, washer etc.
Contact us to buy FAW Diesel Engine CA6
DF2D-14D
The production time for FAW diesel engines is 18-20 days. The port of loading is Shanghai port in China.
FAW CA6DF2D-14D engine procurement is a long-term investment. You can count on us to protect your investment.
Quality, value and professional advice are the cornerstones of our business. Here, we kindly invite you to have a pleasant procurement experience and join into our family of the satisfied customers.
Please feel free to contact us, send your enquiry to sales@elecmama.com or directly add Whatsapp +86 189-3624-2835 for a faster reply. We will sacrifice all of our industrial experiece for your electric power demand. Thank you very much.